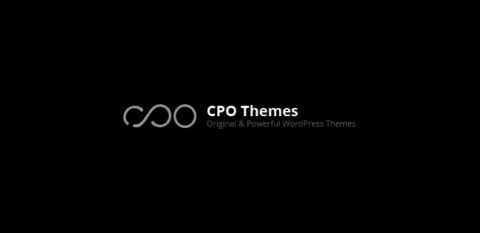 Get Free WordPress Theme For Your Business
Deal Activated, no coupon code required!
Expires: N/A
Submitted: 3 years ago
CPOthemes Review : Simplistic themes for multipurpose ventures
Theme is a universal word. If something you do doesn't have a theme then there is no real structure to anything you do. You must have heard some movie critics rant on about a film where they couldn't get the theme of the movie. So long story short, everything you do needs a theme. That statement is even stronger in weight when you factor in your business websites.
Web development made easy
In the earlier years only tech wizards with tertiary knowledge about web development could make websites. Even 5-6 years ago you would have to hire a web developer to build you a website. This isn't really the case nowadays. Web developers are relevant now, but web development has now come a long way since the WordPress boom has happened.
WordPress lets you create and manage websites on the go and you don't really have to have a lot of programming knowledge to operate WordPress. So web development is now becoming universal form of skill thanks to WordPress. A very important part of the WordPress development cycle is the use of themes.
There are quite a lot of sources you can get and install themes for your websites. Now if you want a hassle free experience with very simple yet effective themeset, today is your lucky day. Let's now talk about a very good source for themes. So let's see how CPOthemes stack up for your theme needs.
CPOthemes – An Introduction
CPOthemes is basically a marketplace for themes for WordPress. It contains a large number of customizable themes. CPOthemes WordPress themes are focused on a certain group of people who want to have their own website related ventures. The focus is mostly on
Bloggers
Freelancers and
Businesses
So it's main themes rely on providing site support for mainly businesses and professionals. But other professionals can also find themes to suit their needs as it gives focus on businesses.
CPOthemes Process of Access
CPOthemes is a service that is similar to most themeshops. But f you are ne to the process and might not be familiar with this process, I will break down the process of CPOThemes access.
Step 1: Buy domain and hosting: In order to get your website online you need to buy domain and hosting for a certain period of time.
Step 2: Install WordPress: From your hosting dashboard you can easily install WordPress with a few clicks from your Hosting interface. Hosting services nowadays usually have this feature
Step 3: Look For themes: Now you can start looking for themes. In this portion, you can look for CPOthemes to get themes of your choice.
CPOthemes all The Themes
Now let's talk about the types of themes you can access on CPOthemes. There is a large assortment of CPOthemes wordpress themes in the website. Now there are some categories under which the themes are sorted.
CPOthemes Blogs
Blog sites are websites that rely heavily on article posts and reader traffic. Blogs usually need flowing styles that helps the readers comfortably take in the whole article. For blogs CPOthemes has Sentience, Adroit, Eloquence and Pragma named themes which ensure these features.
CPOthemes Business
Business themes need to show the products and services well with image aided design and look. For business themes they have Expansive, Affluent, Transcend, Forelight, Scenica, Intuition and Practical named themes which have various use for various business sites.
CPOthemes Creative
Creative themes have a very auteur type feel with use of great colors and image options to highlight creative work. Adroit and Expansive are the two themes available in this type.
CPOthemes E-commerce
There are a host of e-commerce based themes which help you set up your online store with a punch of style and class. Affluent, Expansive and Practical are the E-commerce themes.
CPOthemes Multipurpose
These themes can be used for more than one type of websites and can perform a variety of operations. Allegiant ,Ascendant, Brilliance, Panoramica are this type of themes.
CPOthemes Portfolio
Portfolio Themes are used on Websites for professionals in an online CV or resume type of capacity. Portfolio themes are Brilliance, Affluent,Virtuous, Transcend are some of the Portfolio themes.
CPOthemes Free
There are some themes which are free to use, in CPOthemes. These are Sentience, Expansive, Transcend, Enclosed, Panoramica, Illustrious.
CPOthemes Pricing
There are currently 3 price plans for CPOthemes
Single Theme -: $59, access to limited themes, For a single website
Extended -: $79, access to all themes for 3 websites and 1 year
Subscription -: $79, access to all themes for Unlimited websites and 1 year
CPOthemes Promo codes, Coupon Codes and Discount offers
In many instances CPOthemes provide special coupon codes, Promo codes and discount offers. CPOthemes black friday promo code gives special discounts and prices. There are CPOthemes coupon codes for Halloween, Christmas, Thanksgiving and New Years sales as well.
Conclusion
So all in all CPOthemes has variety and great themes at good enough prices. Although there are no CPOthemes WordPress plugins like the other themshops but who knows what the features hold. So when you're shopping for themes you can take a gander at CPOthemes.