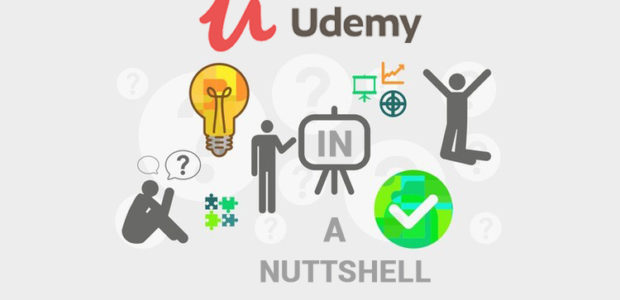 Dream of a time when you'll have worldwide access to a wide range of personal tutors, everyone is an expert in their own field. All these expert tutors can explain their subject in a simple way with practical language. They are willing to help you on their respected subject with utmost care and passion. And their help comes at a minimal cost or even for free.
Udemy, a platform of teachers and students, is here to make your dreams come true. Using Udemy, you will have the opportunity to avail lessons from experts around the world anytime you want. They have revolutionized the traditional education process through a self-paced, online lesson from experts around the world. No matter how far you and your expert tutor reside, Udemy solves this positioning issues with their state of the art platform of knowledge sharing.
Udemy in a Nutshell
Udemy is based in California, USA. They have built a platform for any instructor to make video how-to lessons for any subject. Their motto is to "Help anybody learn anything online". They vision a world where everyone can share their knowledge and expertise.
Currently, Udemy is one of the largest "how-to" video producers in the internet community. They have a library that offers more than 20,000 how-to videos available publicly ranging from lifestyle to test preparation. Currently, they have more than 10,000 registered instructors and over 4 million student base. Each month more than 1000 new courses are added to their library and daily lecture views are more than 80,000. Their courses are available in 190 countries' in 10 different languages.
A handsome number of courses are free and most of the paid courses are priced at less than USD 200. Though there are courses priced to an insane amount of USD 999.
Udemy is always in search of potential course creators by sharing a part of the tuition fees received from the students.
Udemy Courses: Key Features
In Udemy course library individual courses have some common features. Those are:
Variety of Courses: Udemy currently offering courses under fifteen major categories ranging from music to software development to gardening. And each major category also has subcategories varied from subject to subject.
No Prerequisite: Learners doesn't need to fulfill any prerequisites to take any course. They can take any course that interests them.
Viewable from anywhere: Courses can be viewed from any where using any devices using internet connectivity.
Tuitions at minimal cost or free: Almost 10% of the Udemy courses are offered free, while the rest are priced within USD 200.
30-Day Money Back Guarantee: If a student thinks of leaving the course for any reason within the first 30 days following enlistment, Udemy guarantee to pay them back the fees they've paid.
Instant Access: Upon registration students get immediate access to their desired course.
Lifetime access to Course: Upon registration to a course, that course or the portion of that course can be reviewed or retaken any number of time by the student.
Self-Paced: The courses include video lectures ranging from 5 to 15 minutes in length. While watching the student can easily Pause, Play, Rewind or Replay as per their need.
Quizzes: Courses in general include series of quizzes so that student can monitor their expertise level.
Prior Reviews and Ratings: Before purchasing any course students can view the previous students' reviews and ratings of the course to evaluate the course value.
Practically and Professionally Experienced Instructors: Most of the Udemy instructors are professional people, who have been in the situation, have done the tasks. They have actual experience of the field which sometimes the academics lacks in.
Easy to Understand: Most of the courses at Udemy are prepared in simple English with examples that can be easily understood and an explanation of the use in the real-world scenario. And thus, makes the courses easy to get and understand thoroughly.
Certificate of Completion: Many courses provide certificates of completion. Though there is always a chance to get questioned by the people who are unfamiliar with Udemy or online learning.
Visit Our Udemy Store for the latest Coupons and Offers.